Since the passing of the perpetually dilated, ground control technician-ing, androgynous British songster born David Robert Jones, aka David Bowie, aka Ziggy Stardust, aka Sacred Silversexual, aka guy surrounded by puppets in Labyrinth, earlier this week, Bay Area fans, and the entire internet, have come together to celebrate, remember, and straight up worship, the life of this fallen star.
SF Oddities
As a huge activist in the LGBTQIA community since before all those other letters were added, Bowie is particularly missed here in The Bay where the population of free spirited weirdos, eccentrics, and upstream swimmers is particularly prevalent.
Not Yet a Star, Man
His first Bay Area show was a Halloween event in 1972 at Winterland. It was not well received or attended, so if anyone has a time machine and wants to visit the show and give the man some love, that's where to go.
Golden Years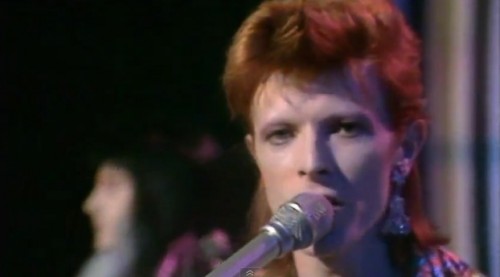 But then Bill Graham was like, "Bowie! Come back! We love you!" and he returned to play a sold out show at the Cow Palace a couple of years later.
A Beautician Sells You Nutrition
He even visited our Golden Gated city, with supermodel Cyrinda Foxe in tow, to film the music video for "The Jean Genie." The two "snuck off to the city" to pose and dance in front of the famous, and not there anymore, Mars Hotel on 4th and Howard Street.
Into the Wild Wind
His lithe, pale, glitter covered, body might be gone, but his legacy lives on through his music, and impact on the world. For information on where to find events to pay your respects to the Bo-Man (a new nickname I just made up) click here.